How to install RBox Mobile App
Mobile App of RBox allows its users and managers to stay connected with their placement process when on the move, or away from desk. The app not only allows you to know the up-to-date status of your Candidates, but also allows you to take important actions, and communicate with your Candidates and Contacts.
a. Supported Devices and Browser to Use for App installation
1. The app is supported on both iOS and Android based smartphones and tablets.
2. Browser to use for Android based Smartphones and Tablets: Google Chrome
3. Browser to use for iOS based iPhones and iPads: Safari
b. How to Install
Follow the steps below to setup the app on your device home screen:
1. Launch the Platinasoft website from https://www.platinasoft.com/.

2. From the Title band, go to the Product drop down and select RBox. You would see RBox microsite opened in a separate tab.
3. Click on the Login button from the top right corner of the homepage. RBox Login screen would be launched.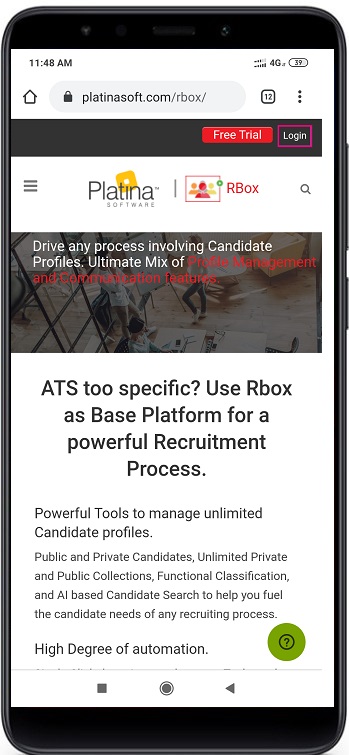 4. In the Login page, click on the Add to Homescreen link. The mobile app's setup page would be launched.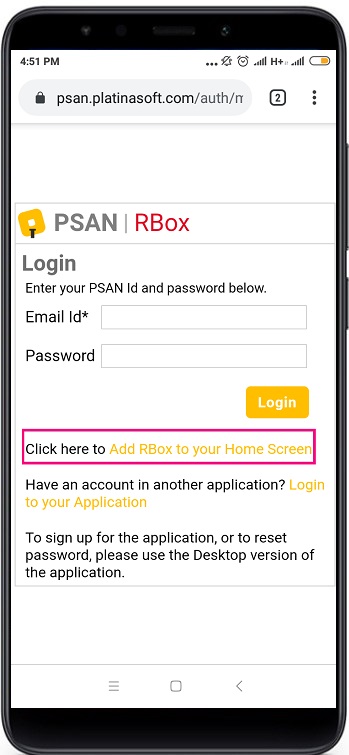 5. Follow the steps on the setup page to add the RBox Mobile Application onto your Mobile device. Installation steps would be different for Android and iOS. Steps would be shown based on the device you are using. For example, below are the steps to be followed on an Android smartphone-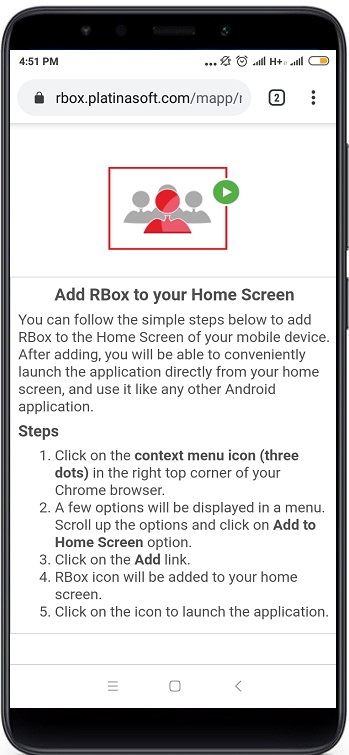 3. Once installed, you would see the application added to your home screen.
c. How to use once installed?
1. Once installed, you would see the Application added onto your mobile's home screen like any other Android application with the product's icon.
2. Just click on the product's icon on your mobile's home screen to launch RBox Login page with the product's splash screen seen launched first.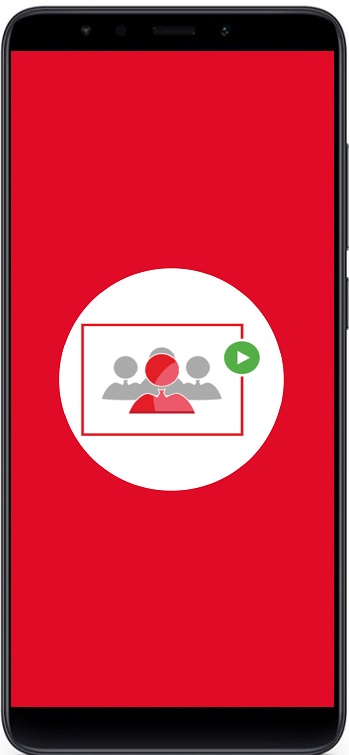 3. Once you launch the App, you would see the Login page. To Login, you need to use your PSAN Id and password which you use to Login into the product.