Summary
This document explains how to clear the list of pending messages for resume transfer in MS Outlook by PSAN Outlook Addin. You may sometimes need to clear this list if resumes transfer seems stuck or is taking a long time.
1. Process

1.0 In MS Outlook, locate the 'SkillPoint' folder from the list of mail folders and click on it. This will show the list of messages pending for processing in the list view pane.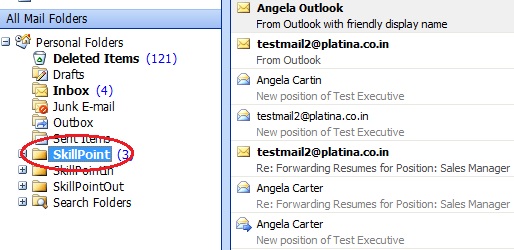 1.1  Rename the SkillPoint folder by right-clicking on the folder and selecting rename. Give a name such as "SkillPoint-<current-date>" to make it easier to track it later.
1.2 Now re-start MS Outlook. After it re-starts, you should be able to see a new 'SkillPoint' folder that is empty. Now, new messages received in MS Outlook will get copied to this folder.
You can now move 1 message at a time from the old 'SkillPoint' folder that you renamed in step 1.1 above and then try resume transfer from it. Attempting to process 1 message at a time will help identify the problem message that is causing the resume transfer to get stuck.
2. Related Documents
2.1. <add URL> Cleaning Pending Email Messages from SkillPoint Message Store: Explains clean messages pending for resume processing from SkillPoint's internal message store.
2.2. Installing PSAN Outlook Addin: Explains how to install PSAN Outlook Addin on a  machine.